Babita Sharma Biography
Published on

21 Dec, 2015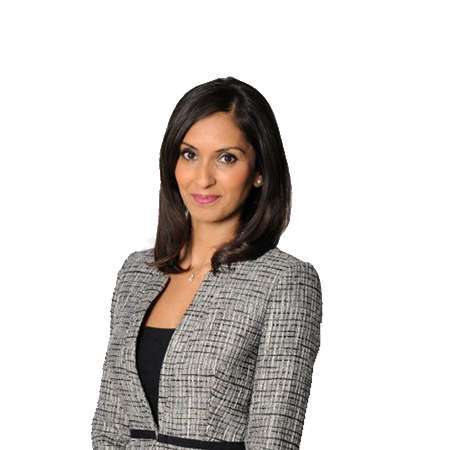 Facts of Babita Sharma
Date of Birth:
1974
,
April
Birth Nation:
United Kingdom
Height:

5 Feet 6 Inch

Name
Babita Sharma
Birth Name
Babita Sharma
Nationality
British Indian
Birth Place/City
London Borough of Lewisham
Ethnicity
South Asian
Profession
Journalist
Working For
BBC
Net Worth
N/A
Eye Color
Black
Hair Color
Black
Body Measurements
N/A
Weight in KG
N/A
Married to
N/A
Education
University of Wales
TV Show
BBC South TodayView more / View Less Facts of Babita Sharma
Babita Sharma is a well-known British journalist. She is a television newsreader on BBC News and BBC World News. She hosts strands each Monday to Wednesday from London with Rico Hizon in Singapore.
She formerly worked in radio. Before joining BBC News, she used to work for Ajman TV and Channel 4 FM in Dubai. She joined BBC Radio Berkshire as a travel presenter and producer in 2003.
Sharma also hosts numerous ceremonies, such as the Angel Film Awards at the Monaco International Film Festival from 2011-13 and the 2012 wings of Hope Achievement Award ceremony. She also speaks at several conferences like World Travel Market and Ted Talk.
Early Life, Bio, And Education Of Babita Sharma
Babita Sharma was born on July 19, 1974, in Reading, Berkshire, England. She grew up with her family name, Sharma. She was born in the United Kingdom and now working as a British TV presenter popularly as a newsreader in BBC news. Her nationality is British-Indian and her ethnicity is South Asian.
She is popular with her news presentation in Newsday this program comes from Monday till Wednesday across the channel. She belongs of Indian descent who was grown up in Berkshire. She states, her father was a major source of inspiration for her work across the field of journalism.
She completed her graduate degree education on the subject of journalism. She completed her university level of education at the University of Wales and obtained her degree from there. Right after the completion of her graduation she later joined BBC Radio Wales as a reporter.
Babita Sharma's Career
Babita Sharma started off her career after completing a journalism degree at the University of Wales. She joined BBC Radio Wales and Thames Valley Television and worked there for some time. She then moved to Dubai and worked on the radio for Channel 4 FM and for Ajman TV for few years. She presented a weekly music program on Ajman TV.
In 2003, she returned to the United Kingdom and began working as a travel presenter for BBC Radio Berkshire. She later moved to the newsroom in Southampton, reporting and producing for BBC South Today. In 2007, she moved on to BBC Spotlight Channel Islands working as a video journalist and regular presenter of the evening bulletin.
In 2008, she transferred to the BBC News Channel, initially, she was a host of a show Your Money. In 2009, she joined the team of BBC World News. Since then, she has been working as a presenter of BBC News and BBC World News. In 2015, Sharma became a presenter of the BBC World News show Newsday. Since then, she is presenting the show.
On 19 May 2018, she covered the British Royal Wedding of Prince Harry and Meghan Markle.
She joined Thames Valley television side by side she also joined channel 4 FM and made a wonderful presence throughout the program. She started achieving success step by step and was later declared as one of the successful journalists till the present context.
she is working as a full-time presenter within the BBC world news and has been working within the successful position under it.
During her tenure with BBC, she has been a part of major breaking news stories like the Paris Attacks, the death of former Al-Qaida president Osama Bin Laden, the death of Kim Jong II, and the Arab uprisings. Sharma has also spoken in numerous events and conferences like Ted Talks, World Economic Forum, International Journalism Festival, MediaXchange, and many other conferences.
She also covers BBC Four programs story of the Corner ship and Supermarket Shopping Secrets alongside Gregg Wallace. In 2016, she was a part of the reporting team on the Rio Olympics in Brazil.
Babita Sharma's Net Worth And Salary
Babita Sharma's estimated net worth is over $1 million as of 2018. BBC news presenter earns an annual average salary of £320,000 ($430,577). So, her salary is above the average as she is a long-term employee of BBC.
Babita Sharma is a very brilliant and talented lady. Her skills and presentation patterns are the major source of attraction for her. With a height of 5 feet 6 inches, she is managing her weight in accordance with it.
She has also an attractive sum of salary so that she is shown as one of the most successful journalists within the United Kingdom.
Babita Sharma's Personal Life, Husband, Family, Married
Babita Sharma keeps on a low profile. She is possibly single and devoting her time to her job. She has not stated that if she is already married or dating someone.
That's a wrap from us #Royalwedding pic.twitter.com/BEKkCi61Q1

— Babita Sharma (@BabitaBBC) May 19, 2018
She has always seen far across from the media and states that she is happy with the long gap between. She also regular visits to India and is highly known for the culture of this place.
She is a very fortunate and talented lady who provides a maximum of her time to her parents. She loves traveling to India with her parents and knows much more about the places.
She has frequently traveled to Paris and has also stated that it is her one of the favorite holiday destination and spot that she has introduced until today. She is also planning to get her new own home.